Hours of Operation:
Tues/Thurs/Fri 9:00 - 8:00
Wed 9:00 - 5:00
Sat 9:00 - 3:00
Sunday & Monday Closed
Shooting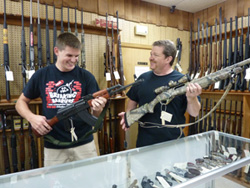 At Mussers Outdoors we have hundreds of rifles, shotguns, handguns, and tactical firearms - new and used. We also have a huge selection of ammunition. We offer fair prices for used guns or trade-ins. You can bring your firearm into our store for us to appraise and purchase outright. We also accept firearms as trades towards a new purchase.
A few of the many reasons to shop for your shooting supplies at Mussers Outdoors:
On-site gunsmithing services by a local gunsmith and
many repairs done onsite
1,000's of items in stock - always expanding new lines!
Knowledgeable and helpful gun enthusiast staff
Flintlock and muzzleloader supplies and powder available
We have gift certificates for those special people in your life
Some of the brands we carry: